19. - 30.07.2019
Free Online FERMENTATION SUMMIT (english)
More than 30 experts, foodies, chefs, health practitioners and doctors share their knowledge around fermentation!
I know that you know: your gut plays the key role in your health... But too many people are frustrated with expensive food, boring flavours, throwing away fresh food they forgot in the fridge or buying expensive probiotics, prebiotics or complicated supplements to fix their gut.
--->>That's why we'd like you to join Paul Seelhorst's Fermentation Summit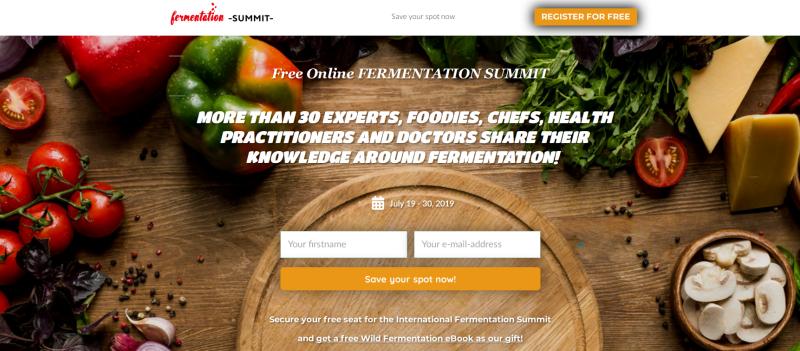 --->>That's why we'd like you to join Paul Seelhorst's Fermentation Summit
Millions of people suffer because they have lost the connection to the bacteria surrounding us, lining in and on us. Due to this they have forgotten how to prepare foods the traditional and delicious ways as our ancestors did.
Have you ever wondered, why you can digest sourdough bread or milk kefir well, although usually you have a problem with grains or dairy?
Paul will answer this question with tons of other great tipps and has, literally, brought together THE WORLD'S EXPERTS in the field of fermentation.
He's on a mission to educate the world about the forgotten techniques of preparing food the traditional, most delicious and healthy way.
Sounds FAIR?
In Paul's words, "Fermentation has always been magical to me. It tastes amazing and unique, is alive, nourishes, heals, upregulates the mood and brings people together. It is our direct connection to nature. It interacts with our bodies in seemingly miraculous ways we do not even fully understand today.

--->>That's why we'd like you to join Paul Seelhorst's Fermentation Summit
Did you know?
"Human bodies contain more bacterial cells than human cells and we carry around more than 2-3 kilograms of bacteria on average"
WHY ATTEND?
Ferments are easy to make and sustainable In times when we did not have fridges, ferments were part of the different diets of almost every culture before we even knew their nutritional value.
Make your own probiotic foods at home Fermented foods are nutritious and wholesome. Apart from being able to deliver probiotics and prebiotics at the same time, they are also packed with nutrients which are often missing in our modern diets.
Ferments are delicious and diverse Everybody knows yoghurt, cheese, sauerkraut, beer and wine but also long forgotten superfoods like kefir, kombucha and tibicos have risen in popularity.
--->>That's why we'd like you to join Paul Seelhorst's Fermentation Summit
Join us for the Fermentation Summit, if you want to:
• understand the effects of fermented foods on your overall health.
• learn which foods you can easily and sustainably ferment at home.
• master the principles and techniques of fermentation and create unique recipes.
• discover which modern methods will help you to ferment easily and effectively.
• save money on overpriced food and gain knowledge by more than 30 experts.
--->>That's why we'd like you to join Paul Seelhorst's Fermentation Summit